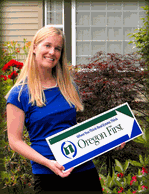 Stacy Hoefer is licensed in both Oregon and Washington for your convenience.   She combines years of experience in and out of real estate. Before joining Oregon First and Washington First Stacy worked for several news stations throughout the United States as an on-air reporter, writer, videographer and video editor. She also spent time as a business development manager at a marketing firm where she made hundreds of product web pages for sites like Amazon.com and also made fliers, brochures and pamphlets to inform buyers and sell goods. Stacy prides herself on being professional and spunky while working on her real estate passion. Give her a call or drop her an e-mail and she'll be happy to start working for you.
Selling Your Home:
There are a lot of people looking for their ideal home and it's important to find a real estate agent who can successfully present the many features and benefits that make that house a home. Stacy spent years as a writer and enjoys bringing pictures to life. She also has access to the full Adobe Suite to make RMLS ads, fliers and internet posts more powerful. Pricing your home correctly is important so it doesn't sit on the market too long and so that the sale gives you the most money. Stacy can show you what similar houses in your area are selling for so you can decide on the right price.
Buying a Home:
Finding a home can be an exciting process as you get to pick a place to make your own; whether you're starting a family, finding the perfect place to relax after work or grow a home business. To make your home buying decision easier, Stacy is happy to meet you and find out what you're looking for and in which area. She can set up a system to e-mail you daily with pictures and descriptions of the best matches as new houses are added to RMLS. This helps you act quickly once you find the house of your dreams. Stacy is also happy to coordinate a time with you to take a look inside and will be there for you with paperwork if you decide you want it. She is also able to show you what similar houses have been selling for in the same area so you can decide the best price to offer.   
If multifamily investments are your target, Stacy has a sheet her an her husband created to show you an estimate of monthly profitability using factors like loan costs (adjusting for the percent you put down), taxes, area rents, average utility costs and average insurance cots.   The sheet also estimates your return on investment factoring in average yearly rent increases, vacancy rates and more.