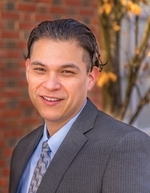 Hello,
My name is Erik S. Estrada, a licensed Realtor in the State of Oregon. I have partnered with Oregon First, an established real estate firm with a footprint covering Oregon and SW Washington. I moved to Oregon from Salinas, California in 1993. Since that time I have lived in different neighborhoods throughout the Portland Metro area and down south in the Willamette Valley.
Prior to becoming a Realtor, I worked for more than a decade in the healthcare industry. I am currently on staff at Adventist Medical Center in the heart of SE Portland. It was when I bought my first home in 2008, a contemporary townhouse in SW Gresham, that I started to think seriously about a career in real estate. I was curious about my neighborhood market; I watched the market go down and up, followed by short sales and refinances. All this activity pushed me to get directly involved with real estate. 
Today my purpose is to help each of my clients fulfill their goal to buy or sell a property. Honesty and integrity are my character, and I am fully committed to serving my clients and act in their best interest. My time providing hands-on care in healthcare taught me to have patience, to listen and understand the needs of people, and to give good advice. I apply these lessons learned to provide you an excellent client service experience. 
I am an active member of the National Association of Realtors, which holds their members to the highest standards. To stay licensed, I take continuing education courses which help me stay current on changes in the market, laws, and forms.
Let me know if I may help. I cover the Portland Metro area, but if you have needs beyond Metro please don't hesitate to give me a call. 
-Buying
-Selling
-Investing
-Vacant Land
-Condos
-Multi-unit
-Renting
-Relocation
-1031 Tax Exchange
-Short Sale
-Foreclosure
Disclaimer: If your home is currently listed with another Company, please do not consider this as solicitation.
Regards,
Erik S. Estrada
Erik S Estrada 's Listings