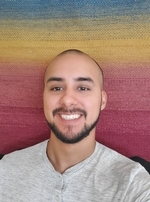 Eric Ramirez is a real estate broker that strives to help buyers find a home that's right for them and assists his sellers getting the offer they deserve on their properties. He started off as a painter on residential homes to installing flooring and to commercial carpentry. With his experience he will provide the service that you need to accomplish your goals.
He focuses in helping you understand each contract, show you where your property stands in the market, lets you know what will help your home stand out to prospecting buyers, and assure you're comfortable and pleased throughout your transaction. Need to look for the right home? Eric uses all his resources provided to him to find the right property that fits your criteria.
When he isn't surfing the web and writing contracts he spends his free time with his dog, playing sports, hiking, and trying new things. He's also capable of keeping a great attitude even without any coffee.